We recommend testing any form that you have created before posting or sending the live link out to others. Testing a form is important for gathering feedback from approvers or other users who are working with your form, ensuring the fields and route are working as expected, and for you to make adjustments as needed.
You can walk through the steps below to assist with testing your form:
Activating Test Mode
Create your Simple or Routed form as usual from your account.

Click the "Test your form" button.

You will be asked to add test approvers to your form. Test approvers will be added to every step of your form and will be automatically removed once the form is published.

Click "Finish" to start testing your form.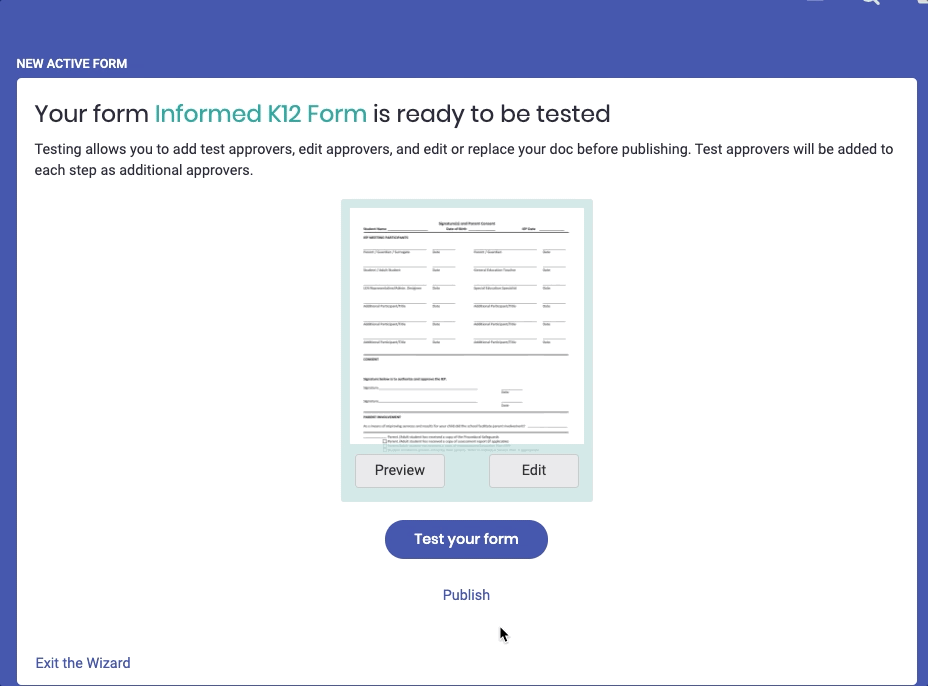 Note: You can identify forms being tested by the yellow banner on all pages corresponding to that form.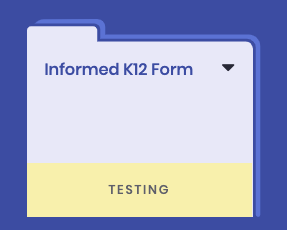 Adding Test Approvers
Test approvers are automatically added to every step along your route so it can be easily and thoroughly tested. The test approvers will be automatically removed once the form is published.
You can add or edit your test approvers by going to the testing form's folder.

Click "All at 'your district'" to access the form's responses page.

Click "add test approvers".

Add or remove approvers as needed.

Click "Finish" to save your updated approvers.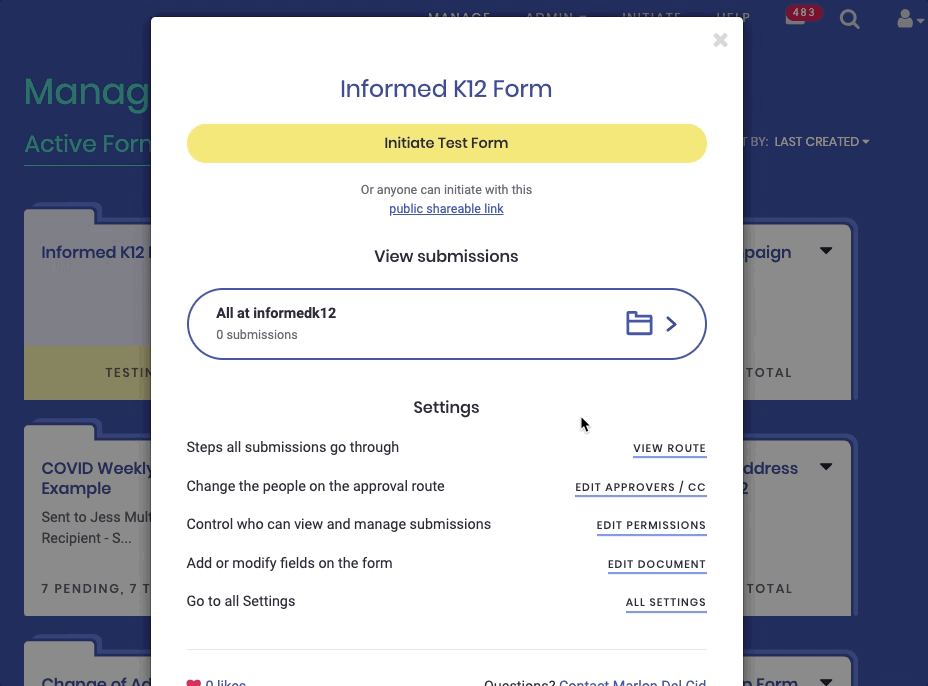 Inviting Others To Test your Form
Initiators - You can share the initiator link as usual! The shareable link can be accessed from the folder menu or from the form's responses page. The initiator link will not change after the form is published!



Approvers - Test approvers will receive a form request via email to test the form at their step. However, keep in mind that the request will not appear on their account's "Inbox" page since these aren't actual requests. Please confirm they have their email notifications turned on before sending test forms for their approval.
Permissions - You can also give others access to the testing form even if they are not initiating or approving the form. They can test all other settings they have access to for their role to make sure they are all set before the form is published.

Please note: Permissions are not automatically removed once the form is published, so you will need to manually remove users if they do not need access to the form after testing.
Publishing Your Form
We recommend quickly going through this checklist before publishing your form:
Double-check your Document for spelling errors or updated language needs (School year, instructions, signature lines, etc). You will be able to replace the underlying document as many times as you need during testing. The document will lock in once the form is published and at least one submission is initiated.
Set up your Search and filter or email fields.
Confirm you have set up required fields and signatures as needed for each step.
Confirm you have all approvers listed along your approval route.
Set up CC notifications for users who need to be notified along the route.
Establish your form permissions needs so you can share them after your form is published.
Once you are ready to publish your form, click the "Publish Form" on your form's responses page.
Note: All test forms and test approvers will be automatically removed once the form is published.



Testing Group Forms
These are the additional features you will find while testing your group forms!
Click the form's folder and go to your responses page.
Send yourself a test form by clicking the "Send me a test email" button.
Select a recipient to test group data information. The group data will only be used for testing purposes so the recipient will not receive the form.
Click "Send me a test email".
You will also have all other options previously mentioned.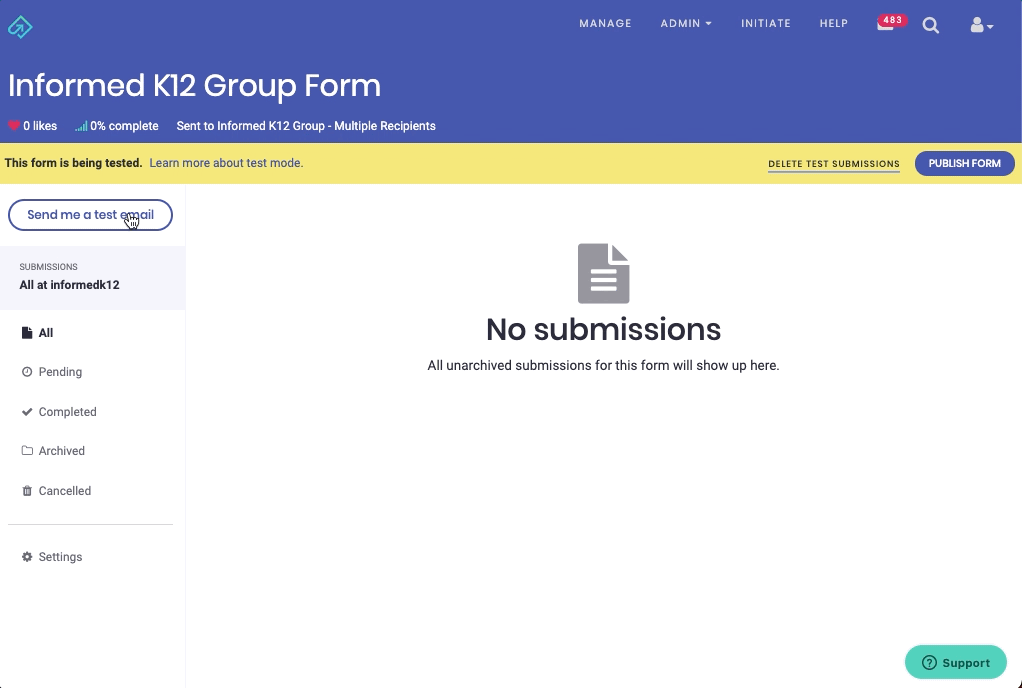 If you require assistance with adding additional approval steps or correcting something else you've noticed when testing your form, feel free to reach out to our support team. You can also find us by clicking on the green Support button in the bottom right when you are logged in.