You might have the option to send a form back for corrections if the form is currently waiting for your approval. You might need to reach out to our Support team to send back a form that is not currently at your step but you have initiated using our Form Dispatcher feature.
Note: Whenever a form is sent back for corrections, all approvers who have signed the form to the point of send back will need to re-sign the form when it moves forward after corrections. The signature dates will automatically update to the new sign date. All other inputted fields will reappear when the form returns to the step it was entered.
Log in to your account

and

navigate to your form's responses page.
Search for/click on the form to view it (Note: approvers can access the form through their email or inbox)
At the bottom of the screen, click on I have reviewed this form
Choose the option Send back for corrections
Select from the drop-down menu who you need to make the correction. You can send it back to any of the past Steps along the workflow.

PLEASE NOTE, after this person makes the corrections, the form will go through all subsequent approvers and each one will have to re-sign the form (if signature was required).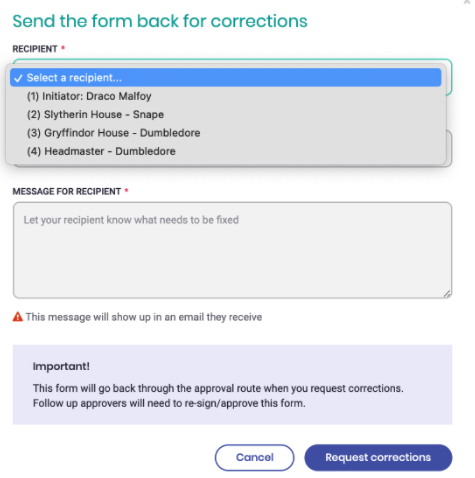 7. Select from the drop-down menu a reason why the form is being sent back. You can also add additional information in the comments section. Then click "Request Corrections". The person will see this information in the email they receive.